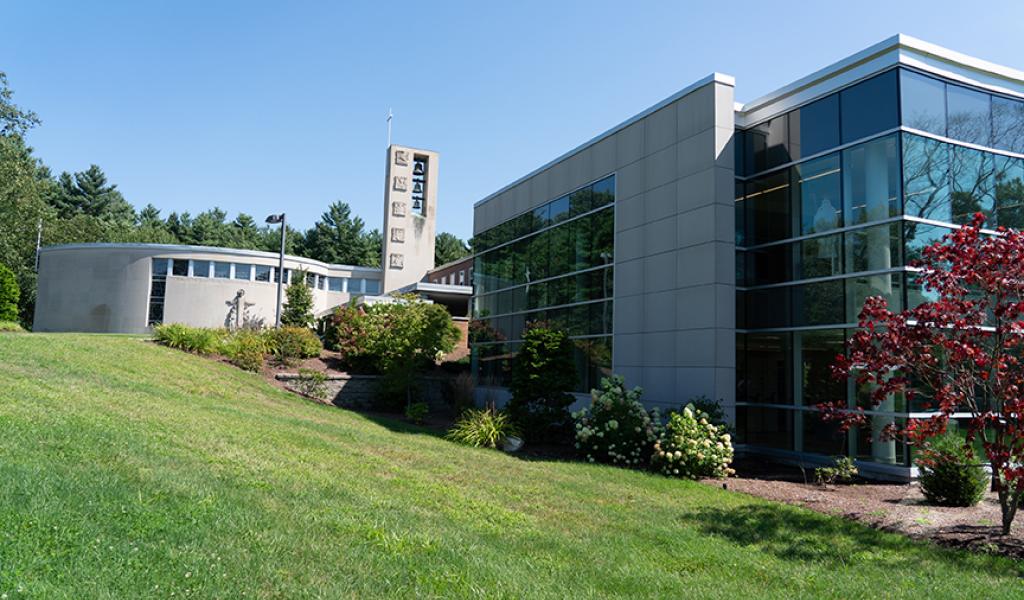 The Seminary is located in Weston, Massachusetts, 13 miles west of downtown Boston, on over 35 acres of wooded land. Our proximity to Boston makes available to us numerous educational, cultural and recreational opportunities.
Seminarians are assigned a single room and share a bathroom/shower with their neighbor. The chapel and dining room are located on the first floor. Two exceptional chefs prepare meals served buffet-style. Residence areas are on the first and second floors. Every seminarian's room is in excellent condition.
In addition to classrooms and offices, the building has a spacious and comfortable library, media room, bookstore, laundry, computer lab and two seminarian lounges. A smoke-free environment is preserved in the building.
Learning Center
Construction of our new Learning Center was completed in January 2016. The new facility is 10,000 sq.ft., spread over two floors. In addition to housing 68,000 volumes and over 260 journal titles, the Learning Center provides a state-of-the-art environment with advanced technologies to foster learning, research, and communication. Study and research are aided by a significant reference collection of over 4,000 volumes, as well as the assistance of a professional librarian. In addition to the physical collection, access to the most important database tools in the field of religion are available electronically.
High-speed wireless internet access are available throughout the learning center, along with access to the Seminary's internal computer network.
Collaborative Community Life
Since we share a common life, seminarians share in responsibility for various aspects of our life together by means of six advisory committees: Academic, Community Life, Library, Liturgical Life, Pastoral Ministry and Spiritual Life. Each committee meets monthly under the direction of a faculty member and is composed of elected seminarian representatives from each of the classes. In addition, the Presidents' Council (class presidents) meets each week with the Rector and Dean of Seminarians to facilitate communication and deal with common issues.
Athletics & Recreation
The Seminary fitness area is composed of two well-equipped rooms (treadmills, ellipticals, free weights). Outside, there is a full basketball court, a bocce court, and a 5-hole putting green. Nearby Regis College provides a full and very affordable fitness center, including a six-lane pool.
The town of Weston and surrounding rural environs offer numerous areas for running, biking, hiking and cross-country skiing. A fine variety of ocean beaches, lakes and rivers, ski areas and state parks are located within easy driving distance.
Alumni
The alumni of Pope St. John XXIII National Seminary continue to have and enjoy a unique relationship with the institution, its faculty and current seminarian community. This relationship is characterized by a special spirit of warmth, outreach and concern that the community has for each alumnus as a person and for the quality and success of his priestly ministry.
The alumni have their own national association and constitution and informally meet on a regional basis. The annual meeting is held in October at the Seminary in conjunction with Alumni Days. Alumni Days is an important part of the Seminary's activities, boasting a vigorous program over a period of two days where alumni can experience a period of spiritual renewal, theological updating and social relaxation.