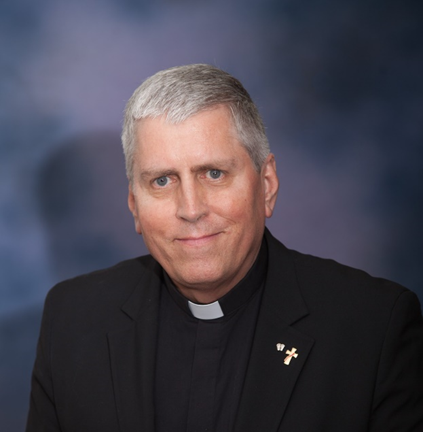 Rev. Mark Brantley of the Diocese of Dodge City, Kansas, and of the Class of 2017 passed away on April 20, 2022, after a brief illness.
Funeral Mass will be held on Friday, April 29, 2022, at 11 am at St. Boniface Church in Sharon, Kansas.
St. Boniface - 412 N Main St., Sharon, KS 67138 | Office: 620-294-5526
Obituary: https://www.legacy.com/us/obituaries/kansas/name/william-brantley-obituary?id=34398396
When Fr. Mark was a Deacon at the Seminary, he helped launch the Seminary YouTube channel with a brief video sharing his background and the reasons why Pope St. John XXIII National Seminary is worth considering. You can view the video here: Deacon Mark Brantley on Why Pope St. John XXIII Seminary
Excerpt from Fall 2013 Newsletter when Fr. Mark entered the Seminary:
Mark Brantley began his life's journey right down the road from Pope St. John XXIII National Seminary in Waltham, MA. As an Air Force pilot and the son of an FBI agent, Mark lived and worked in all parts of the world. After retiring from the Air Force, he flew for a number of years as a commercial airline pilot. He admits hearing God calling him many times to the priesthood and always thinking "I'm too old." It was while on a parish mission trip in what he calls his "perfect storm." Mark met the daughter of Class of 2015 seminarian Russ Mower and learned about Pope St. John XXIII National Seminary. The "I'm too old" excuse no longer applied, and God's whispers turned into shouts. "In January 2013, my life's journey took a 180 degree turn," he says that turn brought him to Pope St. John XXIII Seminary.
Eternal rest grant unto him, O Lord, and let perpetual light shine upon him. May his soul, and the souls of all the faithful departed, through the mercy of God, rest in peace.