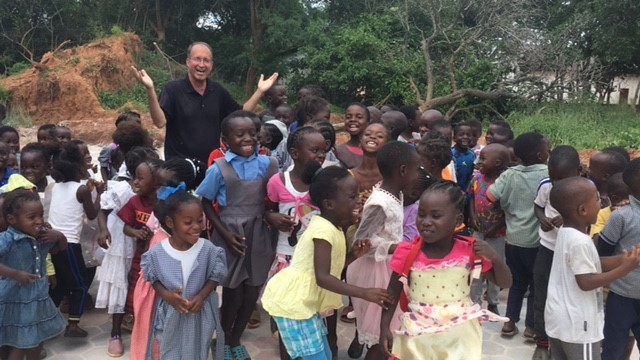 Fr. Michael Bova '18, SMA
Alumnus Rev. Michael Bova, a member of the Society of African Missions (SMA), was ordained to the priesthood in 2018. He wrote to the Seminary recently with an update from the Kaparu Missions in Africa, where he is currently assigned. Here is his letter, as written, keeping us informed of great accomplishments in this missionary work…
As an ordained Catholic priest, you never know where your spiritual journey will take you. It was a long circuitous route to end up in Kaparu Missions in Zambia when I think back 10 years ago when I was in the pharmaceutical industry leading a drug discovery group. Kaparu Missions is situated on over 100 acres of property in a rural area known as The Bush. It is a bit of a dust bowl even in the rainy season.
The people make their living mostly by farming and so their fortunes are often tied to the amount of rainfall. Internet is spotty and there are no newspapers in this area. Most of the people here are of the Lenje tribe although other tribes are here as well. They are poor.
Kaparu Missions consists of a dilapidated church which holds about 250 people. Windows are broken or non-existent, so birds have taken residence in the ceiling boards, and it is not uncommon to have African bees swarming behind you during Mass.
Jokingly, I think about St. Francis of Assisi hearing God telling him to renovate my church… the thought has crossed my mind. The Missions also have a clinic which does a great job with OB-GYN and Infectious diseases. The sisters (Little Servants of Immaculate Mary) who staff the clinic do some cutting-edge stuff for a clinic in the Bush. We have a Church Hall which is in worse shape than the Church and a nursery school which needed renovation as well.
On my first day of arrival after surveying the property, I said to myself, we need a primary school here. Three weeks later we broke ground and were laying a foundation. It is the nicest school in our district.
It is one thing to build a school, but probably the most important thing is to staff it with good teachers, obtain good books for the children to learn from and we had one major problem, there was no one to run the school! I never in my wildest dreams would have thought that my ministry would be Principal of a Catholic primary school, but that is exactly what I am doing now.
We have major problems at Kaparu, there is a 10% HIV rate and high STD rate. There is a high incidence of abortions, problem drinking, and we have much primary evangelization that is needed. However, the school is the best way to mitigate these problems.
As a missionary priest, one of my many hats is to visit sick people in the outstations, evaluate them, and pray with and for them after Mass. I remember the mantra of some ER physicians that I knew which was "do no harm." There are no doctors or clinicians for up to 50 kilometers in an area known colloquially as the Bush. It is the roughest and nastiest of terrains that I have been in. My Ph.D. in Pharmacology concomitant with two years of medical school courses, and my prayers (my best play) are what I bring with me. Most of the time after I evaluate, I say, "you need to get to the clinic as soon as possible." I give them enough money for a Honda ride to the clinic and move to the next patient.
One woman complained of an intense pain in her knee. I was about to give her some NSAIDs from my makeshift pharmacy and then, I had her align her good knee with the bad one…it was twice the size of the good one, looked like it was an infection. Gave her money to get to the clinic and suggested antibiotic therapy. A few months later I saw her again and she thanked me as she was doing much better. This one worked out. Another time I saw a young boy, 9 years old. He had been sick for a month where the parents had taken him to the clinic and they tested him for malaria where he was negative and then sent him home. His condition had worsened considerably when I saw him. He was jaundiced, dehydrated, feverish, and weak. I told the family to take him to the clinic as soon as possible and gave them money for the Honda ride. The parents waited until Monday. The boy died the next day.
Often times I see some Ophthalmology cases. In Zambia, Ophthalmology is a subspecialty that is not practiced too much. My recourse is to take a picture of their eye using my I-phone and to send to an Ophthalmologist in the USA. I had two patients that I had seen recently. I parked at an internet hotspot on the side of a gravel road deep in the Bush and remembered that Larry Love, a PSJS seminarian brother was a retired Ophthalmologist. I hadn't kept in touch with him but remembered he was from Texas and had heard that he was quickly placed in a role as pastor.
I called and it was early morning in Texas and the Parish Administrative Assistant answered. Initially she was hesitant to get Fr. Love but after I said it was Fr. Michael Bova from PSJS seminary she immediately got him and I caught up and chatted with Larry for a few minutes about the cases. I sent him the pictures and he emailed me the diagnoses and we had a follow-up conversation the next day.
One patient needed a corneal transplant which was probably not going to happen in Zambia and with the second patient Larry indicated that it was not serious, and we discussed some medications that could help her. The second patient responded well to medication and is doing well. With late vocation priesthoods, you never know when your background will help you in your ministry. I hope to catch up with Larry under more relaxed circumstances another time but will certainly do so when my next round of Ophthalmology cases arises.
The Kaparu Mission has partnered with the Blessed Virgin Mary and have named the school "Our Lady of Kaparu School."
If you want to defeat Satan your best bet is to partner with her, it is spiritual physics, she wins every time. We have hope, but we need prayers and funding to bring these projects to fruition.