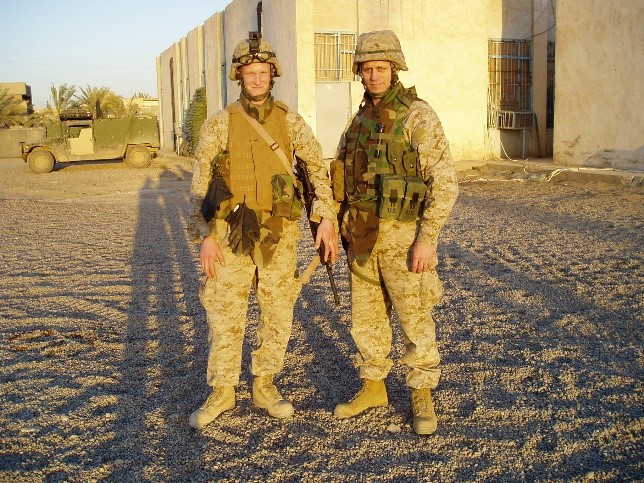 by John Williams '25
Seminarian John Williams '25 wrote this piece for the spring 2023 issue of The Catholic Mirror, the magazine of the Catholic Diocese of Springfield in Massachusetts. You can view the entire issue at the following link, with John's contribution on page 27: https://diospringfield.org/mirror/
When Lent approaches, I always return to the crucible experience of my youth and what it taught me about the Paschal mystery.
I left college 20 years ago and joined the Marines. On Ash Wednesday 2004, I found myself at Mass in Kuwait, on the eve of convoying north into Iraq. The opening hymn, "Be Not Afraid," assumed a literal meaning for us all:
You shall cross the barren desert, but you shall not die of thirst,
You shall wander far in safety, though you do not know the way…
Be not afraid, I go before you always.
Marines are generally laconic fellows, but we belted out the words with great emotion that night.
We spent the next month on the banks of the Euphrates, the "Great River" of the Bible, across from the town of Rawah. We lived in tents without electricity or running water and ate nothing but pre-packaged Meals-Ready-to-Eat (MREs). We patrolled daily in full combat gear, but never showered. Sand and dust permeated everything. Given the conditions, John the Baptist's garment of camel hair and diet of grasshoppers and wild honey seemed an attractive alternative.
On Holy Thursday, we received orders to the city of Fallujah, to restore peace after a deadly attack on American contractors there. We spent Good Friday preparing for what history now calls Operation Vigilant Resolve. As Easter dawned, our battalion engaged in fierce house to house combat. I spent the day reporting casualties at unit headquarters, painfully aware this information would be relayed to loved ones back home with a solemn knock on the door.
The fighting ended at sunset. Beautiful pastel hues danced across the desert sky, but as they disappeared over the horizon, the sights, sounds, and even smell of Fallujah remained. I did not experience the joy of the resurrection that Easter. I was still in the tomb.
The rest of the deployment ended quietly enough and we returned to Twentynine Palms, Ca, by the summer. Seven months later, we returned to Fallujah for Iraq's first national elections. My Lent began with a very (involuntary) penitential exercise: guard duty. For the next 40 days, I stood post at night in a watch tower, by myself, monitoring the perimeter of our base. It was excruciatingly boring; nothing significant happened whatsoever.
In hindsight, though, this thankless assignment proved a blessing in disguise, for it provided me ample time to pray and to consider my future. I would be leaving the Marine Corps soon; what did I want to do with my life? What did God want me to do? I began to appreciate the words of the psalmist, "My soul is longing for the Lord more than watchman for daybreak. Let the watchman count on daybreak and Israel on the Lord" (Ps 130: 6-7). This is when I first began to seriously consider the priesthood.
Easter Sunday in the desert arrived for a second year in a row. This time, however, a Catholic chaplain would be offering Mass at a nearby base. I found a convoy there, entered the makeshift chapel, and sat down on one of the wobbly wooden benches. I thought about my family back home in America. Then, an unlikely person walked in and sat down next to me: my older brother! He was in the Marine Corps when I was born, but now recalled from civilian life to active service. Together, Lance Corporal Williams and Lieutenant Colonel Williams–brothers in arms and brothers by blood–witnessed the presence of the resurrected Christ in a city that a year before knew only death. To the extent there can be a happy ending in war, this was it.