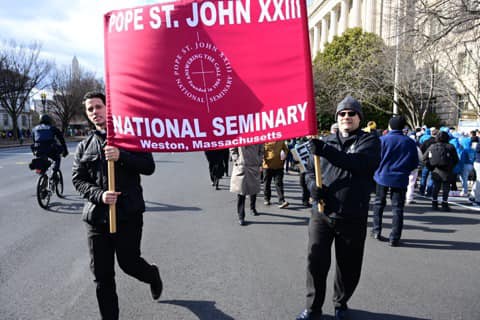 By Thomas Rashid
Five priests and twenty-three seminarians traveled via chartered bus with members of the Knights of Columbus to Washington D.C. for the 2023 March for Life. The Knights of Columbus have always been so supportive of the Seminary's desire to participate each year in this event, and we are grateful to them.
The 50th annual March for Life took place Friday, January 20th in the nation's capital, the very first annual march to occur since the Supreme Court overturned Roe v. Wade. On June 24, 2022, the US Supreme Court issued the Dobbs v. Jackson Women's Health Organization decision allowing the people, through their elected officials at the state and federal level, to impact pro-life legislation.
Seminarian Greg Zingler (Archdiocese of Washington, D.C., Class of 2024) organized the logistics. Greg is also a prayerful respect life partisan at the Seminary, along with fellow seminarian Joseph Gonzalez (Archdiocese of Washington, D.C., Class of 2024). Both men lead many of the rosary initiatives for pro-life at the Seminary.
During the seven-hour drive, I thought of all the great leaders of our national past, who went to Washington, D. C. and the considerable challenges that faced them: a second war of independence, slavery, westward expansion and the plight of the Native Americans, fair labor guidelines, child safety, voting equality, to name a few. Now we, a small but earnest group of seminarians, were doing our bit to witness for those in the most vulnerable stages of life.
On our first day, some of my fellow seminarians and I had time to take a tour of the Capital and surrounding national monuments, courtesy of seminarian Pat Long (Diocese of Venice, FL, Class of 2025). Pat shepherded us through the efficient D.C. Metro. He gave us a walking tour which included the World War I and II Memorials, a quick view of the South Lawn of the White House and Lincoln Memorial. Before we knew it, it was time to prepare for the Respect of Human Life Mass that evening. Prior to the Mass, Gerry Foley (Diocese of Brooklyn, Class of 2026) and I gathered with other seminarians from across the nation to meet and don our cassocks and surplices, in the basilica's vast undercroft. Quite by chance, Mother Olga Yaqob, of the Boston Archdiocese and foundress of the Daughters of Mary of Nazareth, happened to see us. We quietly spoke with her and, as is her gentle custom, she embraced and blessed us both. A touching gesture and one Gerry and I will both fondly remember.
The seminarians and priests of Pope St. John attended the evening Mass for Respect of Human Life on January 19th in the Great Upper Church of the Basilica of the Immaculate Conception. The Most Reverend Michael Burbidge, Bishop of Arlington and Chairman of the USCCB Committee on Pro-Life Activities, was the main celebrant and homilist. Immediately following the Mass, the National Holy Hour for Life was held in conjunction with the exposition and benediction of the Most Blessed Sacrament.
Bishop Burbidge stressed the need for our prayers and moral support to mitigate abortion. He also urged us to continue speaking for the unborn and mothers at risk.
My fellow seminarians and I knelt in the transept, as women religious from the Sisters of Life, Sisters of Our Lady of Mercy and the Little Sisters of the Poor lead the rosary meditations. I noticed also in attendance were women religious, students, many young adults and families kneeling in Mary's immense basilica, praying for the unborn; those who have no voice but ours.
The next morning, before the March, Boston's Cardinal Sean O' Malley was the celebrant at Mass held at the Dominican House of Studies. We were joined by our brother seminarians from Boston's Saint John's Seminary. Cardinal O' Malley's homily gently reminded us of the importance of our prayerful witness to enhance life and to be alert to those in pregnancy crisis.
After a short bus ride to the March route, we arrived at our waiting place between the Treasury and Department of Justice to join other marchers on a sunny and unseasonably warm January afternoon. Boston Knights of Columbus shared extra pro-life signs for us to hold. Cardinal O'Malley arrived and blessed our efforts. It was heartening to see so many other families, women religious, the Knights of Columbus and Malta, seminarians, priests and young Catholic student groups from all parts of the nation, gathered to march for life.
After an energetic march to the Capital, the March for Life 2023 was soon over and it was time to depart for Weston. As we were walking to our bus, I turned back and glimpsed the Capital dome. On the porch of that Capital some sixty decades ago John F. Kennedy urged in his inaugural address, that we work for rights based on reason and practicality. Our country, so beleaguered in recent years by the forces of reaction and retreat can learn again from his encouragement: "Let both sides join in creating a new endeavor, where the strong are just and the weak secure and the peace preserved."
Seminary Rector, Fr. Brian Kiely, shared his thoughts with his seminarians about this important experience: "I am so grateful to Greg Zingler for coordinating all of the various details of our trip and for the manner in which all of you all cooperated to ensure a safe and prayerful journey. Thank you to all who worked so diligently and effectively so that we could journey to Washington for this powerful event and witness to Life… I am so grateful for all that you do in support of the Gospel of Life and I know that our humble prayers are effective. May Mary, the Mother of Life, continue to inspire us as we serve her Divine Son."
We arrived home at the Seminary tired but rejuvenated that we had a small but important role in this national event for life. We can't stop there. God's remarkable grace can be found in life. We need to think of the amazing dynamics when we allow God in to be part of our life. May we never neglect God's gift of life.
Thomas Rashid is a First Year Theology Seminarian for the Archdiocese of Boston and a member of the Class of 2026.